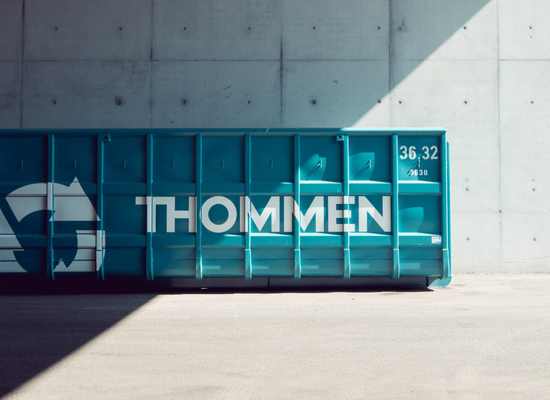 The Thommen Group as a Training Company
Vocational training for the environment: At the Thommen Group, young people take up a vocational apprenticeship with a future and for the future.
As a parent, teacher or career counselor, would you like your child or the apprentices to participate in a future-oriented, safe apprenticeship which, after successful completion, opens up a large number of career paths or even a degree course? The Thommen Group makes sustainability a priority in its four environmental careers. We're training the recycling professionals of tomorrow.
Vocational training campaign: An overview
In September 2021, we launched our first vocational training campaign. For this purpose, we have created an independent page for apprenticeships within our website, where young people can find out about our career options during the career selection phase: 
In addition, we have presented the careers on our social media channels.
In an advertising campaign via Snapchat, Instagram and TikTok, we showed young people the following videos during the career selection phase:
On this website we give you, dear parents / support persons of young people in the career selection phase, information about the benefits of an apprenticeship at the Thommen Group, an overview of the open apprenticeships offered, the process of an apprenticeship at the Thommen Group and seven reasons why environmental vocational training at the Thommen Group is safe and sustainable.
Benefits of a vocational apprenticeship at the Thommen Group
Vocational training at the Thommen Group offers many advantages. We have summarised these for you as parents, teachers and vocational trainers of young people in the career selection phase.
As a leading recycling company in Switzerland, we create resources and can guarantee your child/apprentices a safe vocational training in the field of environment protection.
A vocational trainer will be a permanent contact person for the youth throughout the training and will promote successful completion of the recycling or environmental protection training.
Thanks to its group structure, the Thommen Group offers virtually unlimited career opportunities. Training in environmental protection ensures the future of our planet.
Recycling and resource creation will be more important than ever in the future. Your child or apprentice will actively contribute to a better world by doing an apprenticeship in environmental protection and recycling.
Overview: What career training courses in environmental protection does the Thommen Group offer?
Currently, we offer open apprenticeships in four environmental and recycling training courses for young people:
What is the vocational training process in environmental protection?
The vocational training at the Thommen Group takes place not only at the host company but also at the vocational school and in inter-company courses. Basic vocational training lasts between three and four years, depending on the occupation requiring training.
During this time, your child or apprentice is assigned to a permanent vocational trainer. Thanks to the close trusting relationship, it is possible to design the teaching process individually and focus explicitly on the apprentice's strengths. As a parent or teacher, you also have a permanent contact person to whom you can reach out at any time if you have any questions or suggestions.
Each specialist in the entire Thommen Group supports the apprenticeship with their expertise and the helpful way they answer any questions and guide activities in a comprehensible manner. 
7 reasons why environmental training at the Thommen Group is safe and sustainable
 
The Thommen Group is the leading recycling company in Switzerland. With a total of 25 locations worldwide, there is no limit to professional development once your child/apprentice completes their environmental protection training. Our 15 locations across Switzerland ensure that apprentices do not have to leave their familiar surroundings while completing their training.
With a total of three successful brands, we are able to promote a wide range of career options during and after environmental protection education, as well as the development of apprentices and all professionals. 
We take great care to protect all our collaborators as well as apprentices in the best possible way – this is our top priority. Protective equipment and other health promotion measures are firmly anchored in the training concept so that your child/apprentice can complete the vocational training in environmental protection safe, sound and successfully.
As an innovative company, we have succeeded in constantly rethinking decades of expertise. We have played an active role in shaping the fields of environmental protection, recycling and energy conservation. The Thommen Group plays a leading role in the development of the recycling industry and makes the world a better place by recycling valuable resources. 
Every apprentice receives a permanent vocational trainer who guides and supports them individually throughout the apprenticeship. This individual support ensures the personal, technical and professional development of your child/apprentice during their environmental and recycling training. As a parent/teacher, you will always know who to contact if you have any questions, uncertainties or concerns. We make family interaction a priority and integrate apprentices firmly into the entire Thommen Group team – your child/apprentice is never left alone, yet at the same time is challenged and encouraged as an individual.
Leaving one's usual social environment for an apprenticeship is difficult for many young people and their parents. The Thommen Group has 15 locations across Switzerland, so apprentices can maintain contact with their usual environment in the course of the vocational training.
Training occupations in the field of environmental protection will become an increasingly important part of society in the future. With an apprenticeship and a job at the Thommen Group, your child/apprentice takes up a job that makes the world a better place for future generations and contributes to the conservation of nature.
Serkan Sari, vocational trainer for business administration apprentices at the Thommen Group, talks about the Group's special vocational trainer concept 
Who is the Thommen Group?
The Thommen Group is the leading recycling expert in all of Switzerland with three established, independent brands that complement each other perfectly. Good geographical coverage and complementary focal points enable us to offer a wide range of recycling services and to conserve nature sustainably.
The Thommen Group is made up of: 
Thommen AG shapes the future of recycling in Switzerland by providing comprehensive services to companies and in some cases to private individuals. 
Metallum AG is involved in the international trade in primary and secondary metals as well as their residues and the processing thereof. 
Immark AG is a market-leading specialist in the recycling and disposal of electrical and electronic waste and generates valuable raw materials. 
Jobs in environmental protection – career prospects after training
Is it important to you that your child/apprentice not only takes a promising, safe apprenticeship, but can then move up the career ladder? The Thommen Group offers many different, safe and future-oriented careers with excellent promotion opportunities through its three brands.
We strive to shape the future sustainably both at the global level as well as in our company. As the field of recycling is becoming increasingly important and continuously expanding accordingly, career training in environmental protection and recycling is one of the safest in the world. In the interesting years of apprenticeship, your child/apprentice will acquire sought-after skills which also promote environmental awareness in private individuals and are used in a good number of industries.
Our goal is to move recycling forward in an innovative way, and we look forward to new ideas and active support. Is your child/apprentice someone who likes to work to conserve nature and do something for the environment in the long term?
Please forward the information on environmental protection training at the Thommen Group to them or have a look at the open training spots: