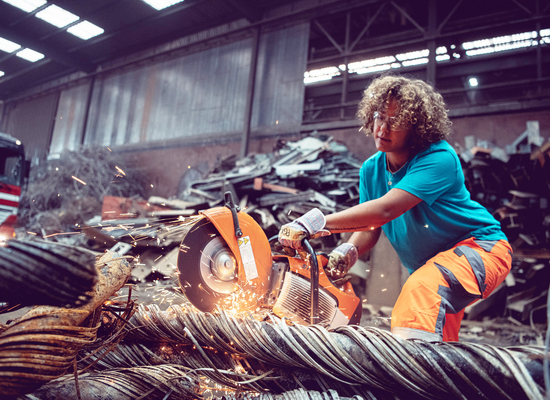 Jobs at the Thommen Group: Make an active contribution to environmental protection
When you think of Thommen, what comes to mind? Do you think of a large scrapyard you've passed by before? Or the lorries and containers that you spotted labelled 'Thommen'? If you thought the plant merely consisted of the recycling of materials that are no longer in use, as well as logistics and disposal, then you were mistaken.
The Thommen Group is an international recycling company that combines the Thommen, Immark and Metallum brands. The Thommen Group, one of the leading Swiss recycling groups with foreign sites in Germany, Belgium, Italy and China, offers a broad range of jobs and career options.
Together, we have a single mission: To preserve and recycle existing resources. Used products are carefully processed with a high level of expertise and returned to the raw material cycle. In order for us to achieve this goal, we need your support. Make an active contribution to environmental protection through your job.
Become part of the Thommen Group and help make the world a bit better every day. We all work toward the same goal. Teamwork, mutual respect and trust are top priorities for us.
Why do our employees enjoy working at the Thommen Group?
We asked our employees why they enjoy working at the Thommen Group. Watch the following film to learn more:
Apply to the Thommen Group
Are you looking for a new career challenge? Do you want to make a difference at a dynamic company? We look forward to receiving your application.
What are the benefits of working for the Thommen Group?
There are many good reasons to work for the Thommen Group and the good of the environment. In the following sections, we give you an insight into the benefits of a job at the Thommen Group. In short films, our employees themselves talk about various aspects that make their work at the Thommen Group so interesting.
Tasks for the good of the environment
Environmental jobs are available in many forms at the Thommen Group: From the buyer to the digger driver, the recycler to the broker. Because Thommen is organised as a group, we offer many exciting professions. You can also build your own career path within the Group by making the appropriate commitment.
Georges Janett (site manager of Thommen Ltd Köniz & Givisiez and member of the Extended Management Board of the Thommen Group) gives an insight into his career path from recycler to site manager at Thommen in the following short film.
Respect
At the Thommen Group, we count on each and every employee. It is only with them that we can move step by step closer to our goal of improving the environment. We know what our employees do on a daily basis, and we are very proud of it.
'The Thommen Group knows what good employees are worth. This is why employees will probably remain in the company for a longer period of time.'
In the following film, Steffen Zeising (member of operations staff) explains why he enjoys working for Thommen Ltd.
Team culture
All of our employees have the same goal, namely to make new things out of old ones. The courteous interactions, the open communication culture on equal terms and the constant development of abilities and personalities in order to achieve this goal is what makes our team culture so special.
We also place great importance on a good mix of teams from different age groups. The different experiences of the team members move us forward together. Our employees appreciate it very much that they see at the end of the day what they are working for, because we are manufacturing companies with services you can touch.
'The combination of experience and curiosity provides good solutions for projects.'
In the following short film, Thomas Schibli (technician) and Nicolas Huber (process engineer) talk about the advantages of the generational mix at Immark AG.
Liridona Orllati (employee in Administration) and Andrea Nauer (team leader of Administration) at Thommen Ltd Amriswil & Staad report on the benefits of working together in a mixed-age group.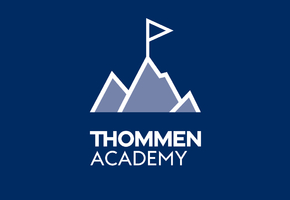 Focussed advanced training with the Thommen Academy
We offer you many interesting advanced training opportunities in our own in-house Thommen Academy. We also cooperate with first-class external bodies which provide training in specialist skills, methods and management, thus ensuring an optimal transfer of both theory and practical skills.
The "Talents" programme is geared towards our personal development.'
The Talents programme is also part of the Thommen Academy. Sandro Strübin, site manager of Immark AG in Regensdorf, successfully completed this program for executives and gives you an insight in the following film:
Time savings due to excellent connections between the sites aand public transport
All of our sites are in prime locations and very accessible by public transport. Because you do not get stuck in commuter traffic every day and can use your precious time on the train for personal matters, you have more time for the important things in life: Your family, your friends and yourself. In addition, the use of public transport contributes to our overall objective of saving environmental resources.
Social responsibility
We take our social responsibility seriously. We are not just saying that; we actually do something about it: The Thommen Group offers suitable jobs for people with disabilities. In addition, it awards contracts to organisations active in the secondary labour market.
What are adapted workstations?
Persons with disabilities have the opportunity to perform meaningful and productive work in line with their personal performance requirements. We offer these types of jobs, for example, at Immark AG in Liestal.
What do we mean by 'jobs in the secondary labour market'?
The basic prerequisite for gainful activity in the secondary labour market is the receipt of unemployment benefits II or social assistance. Cutting plants that work for Immark AG offer these types of jobs so that these people can be reintegrated into the primary labour market as soon as possible.
Through your job, you actively contribute to the protection of the environment and the conservation of resources.
Because materials are processed directly in our plants, you can see the results of your work.
You will receive an insight into the strategy and operational processes of the Thommen Group and the individual companies.
A lot of freedom, independence and responsibility in your job duties
Stability and a secure workplace, as the Thommen Group is the market leader in a growth market
Flat hierarchies and clear decision-making processes
Courteous team culture
We are committed to social responsibility towards our employees and society.
Good fringe benefits
Apprenticeships at the Thommen Group
The Thommen Group offers exciting apprenticeships in various occupations. Find out now and perhaps join our team in the near future.